Helping the sun shine on our members
If you have any news about members, please let us know. This page is dedicated to keeping tabs on our membership and what is happening in their lives. We will list happy events as well as sad events, illness, accidents and successes.
Information should be forwarded to Jennifer Sachetti 603-422-1069 jsacchetti@podres.com for cards and rememberances and to Pat Darmofal patdarmofal@comcast.net for web notices.
Peg Deane passed away on October 10, 2014. Peg was a long time member of CSTR and very active, giving of her time over the years, to manage rides and explore and mark trails. She attended the 2014 August ride and it turned into her last hurrah and those members present at the ride got the chance visit with her and help her ride the trails one last time. We will all miss her greatly. Her funeral service was private, however friends could attend the graveside service and many of us were present. The following letter came by way of Judy Atkins. Judy was previously married to Gilbert Ruff, Peg's brother. Her letter is printed with permission.
---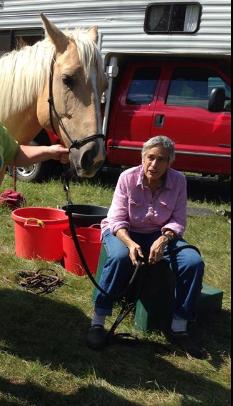 Peg Deane, Remembering a great horsewoman. Soon after meeting Gilbert Ruff, in NYC, in 1969/70, he told me that his sister Peggy worked on the racetrack. I said, "your sister does what?" I have to meet her!" Gilbert and I and some other NY friends relocated to Western Ma, to get out of the city, and so he could start his cabinetmaking work in a studio, in a more affordable setting. Soon after moving to Leverett, Peggy started giving us horses. the first horse was a Belgian. She was working at Liberty Bell Racetrack, in Philadelphia, and on her way to work she would pass two Belgians who were being used for carriage work in the city. Their condition looked to be worsening each day that she passed them. Finally she stopped and offered to buy one. She took him to the racetrack and fed him back to health and then delivered him to us. This was Buster, our first horse. Turned out Buster was a really well trained work horse good at driving and pulling out logs from the woods. He was a wonderful horse and also had a sense of humor. Buster was joined by a Tennesee Walker mare, named Rosie, who had been accidentally bred by a young colt who everyone thought was too young to breed and so was turned out with mares. Not true! Peggy thought they needed a new home and so we acquired Rosie and Donald. We were living in Northfield at that time in a little house next to the RR tracks and above the cornfields and the river. Donald was a very light colored red roan, and we were asking ourselves, "what color is he really?" and we all decided his color was really "Pink." Donald was the pink horse from then on. Peggy always found Donald very amusing, mostly because of the way he took advantage of me. "He can really push your buttons," she'd say. He was remarkably easy to train, and I drove him and rode him all over Guilford and Leyden, alone and with Peg, but I think the story was more that he trained me rather than the other way round. He did always have the upper hand, or hoof. While riding by the Franklin Farm one day, Donald came face to face with a bull. Peggy and I thought it was funny at first when the bull started pawing and snorting and then Donald started pawing and snorting back! But the bull was only separated from us by a one strand electric wire. We looked at each other and decided to quickly stop Donald from teasing the bull and get the hell out of there. Peggy rode off the track Thoroughbreds, not the easiest horses to ride. I remember Miss Cecilton, and then Lorenzo the best. She also rode very tall Belgians who had not had much riding training. I can still feel Dan's huge feet shaking the earth as he trotted along. By this time I had discovered The Cross State Trail Ride, and this ride Peggy and I would continue to go on right up until this summer - a ride she was determined to go on, despite her weakening health. The Cross State is a 10 day riding and camping with your horse pleasure trail ride. It began as a point to point across the whole of Massachusetts. It takes place every summer the second week in August in a different area of New England and upstate New York. This summer was the 45th year of the Cross State, held in Richmond/Swanzey NH, hosted by Kathy Livingston. It was probably Peggy's 40th or close to it. This summer, Peggy, became an inspiration to all of us with her determination and happiness at being able to make it to the ride. Her horse, newly named Mr. Ed because of his personality, was a kind easy going 8 year old QH. When she tried him out with Mary Ellen Franklin, she said, "Judy's really going to like this horse, and I did!" Mary Ellen told me she called her from the trail ride and screamed "he is perfect!" We had so many good rides together! Of course the stories are mostly about mishaps, but almost all our rides were really great. She was an excellent rider and very attentive to her horse's condition. We continued to be friends and riding buddies after my move to Greenfield and my marriage to Dave. In fact we could now condition our horses by riding from her and Willie's house in Guilford to Dave's and my house in Greenfield and then back again the next day! Our first Cross State was in Derry, NH. We thought we were well prepared for camping with sleeping bags and a tent. However when we set up the tent it turned out to be a Boy Scout pup tent for the two of us. It was obvious either our feet or our heads would stick out the front. We chose our heads. Luckily it didn't rain. I'd say she rode even more than I did. She went to other trail rides besides the Cross State. She enjoyed going up to Williamstown, Vt. on rides with Brenda and Morris LaSalle. She alway tried to make the Harrisville, Pennsylvania ride with her friend, Snover. I'd like to mention Josh Merrit the trainer in Vernon, Vt. who trained and conditioned her last few horses each Spring. He was a big help to Peg, getting her horses going in the Spring. Lastly I know she really loved the trip out to Utah and Arizona to go on The Red Rock Ride, a couple of years ago, a horse vacation that Willie gave her and that she really loved. She rode a big white mule on that ride, and I'm sure was the toast of the ride. One of my happiest memories is of Peg and her horse Splash drinking their twisted tea together out of the same mug. Here's to you Peg! I'll miss you.